Link Shortener
Shorten your long marketing links into branded short InterConverse campaign links.
InterConverse Advertising Platform is free. Try It!

Branded Domain
A Branded Link helps you personalize and brand the InterConverse campaign link you share. You will have the option of using your own branded domain link in place of the default "icl.ink" when creating campaign links. (For example, the New York times uses the Branded Domain "nyti.ms" and TechCrunch uses the Branded Domain "tcrn.ch.").
The domain you enter must be a domain that you have already purchased and have full control over, since you will have to change the domains DNS settings to complete this step. If you need help finding and purchasing a Domain, we recommend starting your search at
101domain.com
Login to the
Platform
to requested your branded domain today.

Browser Extensions
Get one-touch URL Shortening with browser extension add-ons. Download and install the extension for your favorite browser.
Downloads:
| | |
| --- | --- |
| | InterConverse PinIt |
Build targeted conversations with InterConverse using your interesting Pinterest Pins that engage people with the things they love, and inspire them to continue their online journey of discovery.
Download:

Wordpress Plugin
Shorten long blog post URLs into InterConverse campaign links via interconverse.com that will be unobtrusively tagged on the bottom of each post. Use the shortened url to easily share your posts on websites or social networking sites like Facebook, Twitter and Pinterest. No account or password is needed to use the InterConverse service through this WordPress Plugin. Download the Wordpress Plugin
here.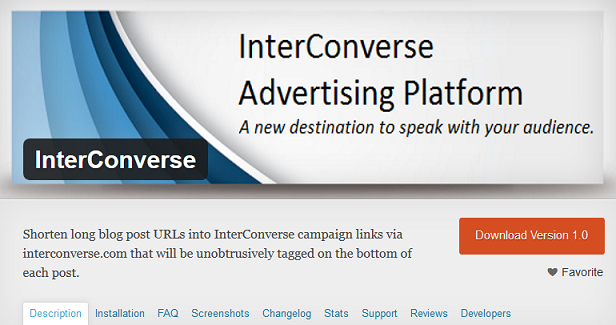 InterConverse Advertising Platform is free. Try It!

Generate QRCode
QR Code ("Quick Response") is a cell phone readable bar code that can store website URL's, plain text, phone numbers, email addresses and pretty much any other alphanumeric.
QRCodes can store up to 4296 characters and they are internationally standardised under ISO 18004, so a QRCode is the same everywhere. QRCodes have been big in Japan, broke into Europe and the UK a few years back, and are now getting real traction in USA. Think of them as an "image-based" hypertext link.

InterConverse API
Developers, webmasters, affiliate program managers and other business partners can generate a free APP_ID API Key to begin implementing the InterConverse campaign link service in your own application and website development.
Signup for free, or login in to the
InterConverse Platform
, and click on the "Tools" Link.